Jersey families called to host international students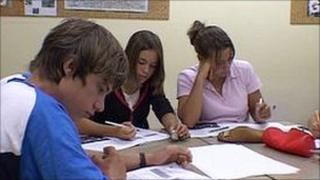 A call has been issued for more families in Jersey to host students from abroad.
It comes after a decline in the number of families taking part in the scheme in recent years.
Language schools in Jersey say they are turning away business as accommodation is not available for students.
Susan Nicolle, of Jersey Studio of Foreign Languages, said numbers of host families have not risen in line with increasing popularity of courses.
Host families earn around £15 a night and have to provide breakfast, a packed lunch and an evening meal.
Phillip Sturgess, the Swedish Consul in Jersey, said a lot of the focus is now on the financial rewards that can be made from hosting a family.
But he said: "For anyone who really would like to enhance their children's education in Jersey then having foreign students staying with them for four or five weeks is a wonderful way to do it."
Colin and Bridgette Burgess, who have been hosting for 24 years, said it can be very rewarding.
But in recent years concerns have been raised for the safety of foreign students after a French student was attacked by four teenagers on the south coast of the island.