Jersey Post issues stamps showing local orchids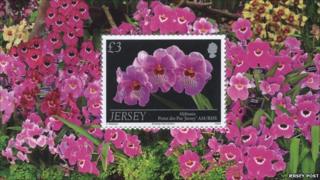 Jersey Post has issued a selection of stamps featuring locally grown orchids from the Eric Young Orchid Foundation (EYOF).
This is the seventh issue of stamps in the Jersey Orchids series issued by Jersey Post.
Philatelic Researcher Melanie Gouzinis said: "Orchids on stamps are popular with collectors all over the world."
Orchid foundation curator Chris Purver said they were constantly working to develop new hybrid orchids.
Mr Purver said: "The skills of the breeders here at the EYOF are unrivalled and it is understandably a real delight to see our orchids showcased so magnificently on Jersey stamps."
The orchids which feature on the six stamps are: Paphiopedilum La Garenne (Saint John), Odontioda Les Brayes (Pontac), Phragmipedium Don Wimber Kriegerara Kemp Tower (Trinity), Angulocaste Noirmont (Isle of Jersey), Calanthe Beresford (Victoria Village) and Miltonia Point des Pas (Jersey).
The stamps in the set range in price from 37p for the Paphiopedilum La Garenne to £3 for the Miltonia Point des Pas with a miniature sheet.