Jersey expert concerned over bird numbers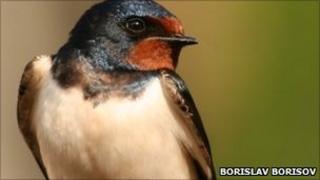 A Jersey bird expert has said he is concerned about the falling numbers of swallows and house martins in the island.
Mike Stentiford said a boom in new homes being built had left the migrating birds with nowhere to nest.
It is causing concern for conservationists who are asking for help in finding out how many swallows and house martins there are in Jersey.
Mr Stentiford is doing a survey with the Durrell wildlife trust.
Swallows build their nests in old barns and house martins make small round nests under the eaves of houses.
Mr Stentiford said one key problem for the migrating birds was the way modern houses were built.
He said it meant the birds returning to Jersey in the spring would find the old barn they nested in year after year had been converted to new flats and houses.
He said: "I really, really do believe that wildlife is such an important thing in everybody's daily lives.
"I think if we suddenly found we didn't have birds singing in the morning, we didn't have squirrels going through the trees, life and the island would be much poorer for it."