Minister suggests names for Jersey development company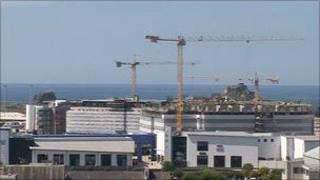 Jersey's treasury minister has put forward new names to run the States of Jersey Development Company.
The appointments follow Baroness Margaret Ford's withdrawal of her candidacy for the chairmanship.
David Pretty also withdrew his candidacy for the position of Non-Executive Director of the company.
Senator Philip Ozouf wants the States to approve the appointments of Mark Boleat as Interim Chairman and Jurat John Tibbo as an independent director.
The States of Jersey development company was created to oversee large regeneration projects around the island on behalf of the States, replacing the Waterfront Enterprise Board.
The decision to nominate Mr Boleat and Jurat Tibbo was fully supported by the recruitment panel and by the Jersey Appointments Commission.
Senator Ozouf said it was regrettable that the previous nominees withdrew, but that they were fortunate to be able to propose two strong candidates.