St Helier nursery to raise fees over cost fear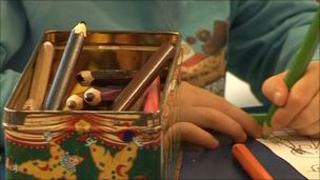 A St Helier nursery has increased its fees and changed the way it charges parents.
Avranches Nursery, in Trinity Hill, has been running at a loss and in future parents will only be able to book set times rather than by the hour.
The nursery has also confirmed it will be increasing fees.
It is run by the Parish of St Helier and the Constable, Simon Crowcroft, said ratepayers were being asked to subsidise parents from outside.
Constable Crowcroft said: "The two-day nurseries that the parish run don't entirely cater for parishioners.
"Certainly Avranche, two thirds of the parents who use that nursery don't live in the parish of St Helier.
"That means when the nursery is running at a loss, like that one is, questions are raised by the parish accounts committee about why St Helier ratepayers are footing those subsidies."
The Constable said the changes were the only way to keep the nursery going.
He said: "That is why we started running the cost of running that nursery and we looked at the flexibility.
"That is great if you are a parent if you want to pick and choose the times of childcare but it makes it difficult to run without making a loss."