St Catherine's lifeboat crew helps Jersey crash victims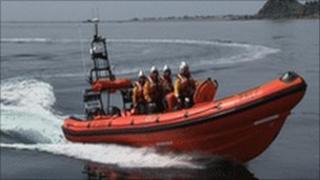 A Jersey lifeboat crew was involved in a rescue on dry land after it helped six people involved in a car crash.
The incident happened at about 1000 BST on Saturday at the junction of Pine Walk and Route de St Catherine on the island's north coast.
Two cars had overturned and the St Catherine's lifeboat crew treated the occupants for minor injuries.
The crew had been preparing for a lifeboat naming ceremony taking place later.
Volunteer crew member Helier de Veulle said that the accident, which happened about 100 yards (91m) from the lifeboat station, was "quite a major prang".
He said: "We were in full flow preparing for the ceremony so fortunately we had all hands on deck.
"They were all on the scene in seconds and able to help all the occupants out of the vehicles safely. It was great to be able to put all their training into practice."