Jersey's cod fishing heritage shown in Canada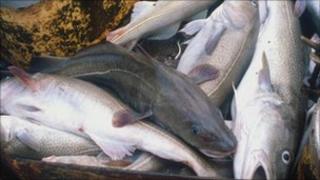 An historic house is to open as a museum in a Canadian city showing its links to Jersey's cod fishing heritage.
Wendy Le Marquand, who was instrumental in opening the house in Gaspé, is in Jersey trying to trace her roots.
Mrs Le Marquand's ancestors were among those who went to Canada in the 17th and 18th centuries to fish for cod.
Until the late 1700s migrating Jersey fishermen fished for cod between February and October in Canada and would then return to Jersey to farm.
The historic house, called Maison Le Page, will portray this link between Jersey and Canada.
Mrs Le Marquand's project was discovered by Jersey woman Marion Kirkbride when she bought a house in Canada.
It is the first time Mrs Le Marquand has left Canada and she hopes to find out more about her family while on the island and even meet some of her relatives.
Mrs Kirkbride said: "There are paintings, furniture, lots of documents - some from Jersey and some from Canada - old clothing, but most of all it is the story of how they came to be there and how they survived which is the most fascinating."