Jersey lifeboat called out during its naming ceremony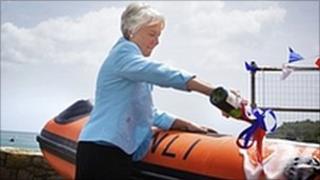 St Catherine's Lifeboat was called out during its naming ceremony on Sunday.
More than 250 people were at the dedication for the Eric W. Wilson when the call came in for help.
Two people on a speedboat were suffering in the cold and rough conditions about four miles north-east of the lifeboat station.
The RNLI said the Dean of Jersey "rapidly improvised and blessed the lifeboat almost as the volunteer crew launched".
The lifeboat got to the scene within six minutes and the couple were taken to Gorey in the lifeboat while rescuers brought their speedboat back.
The lifeboat returned to station where it was then formally named by Dianne Ward, the daughter of Winifred Wilson who left the legacy that helped fund the lifeboat in memory of her late husband.