Jersey hopes to get on a UK e-gaming white list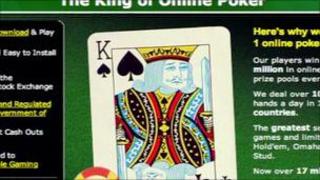 Jersey politicians are in talks with the UK government to go on a list of safe gambling jurisdictions.
Jersey-based companies are not able to market gambling services to the UK as the list closed in 2009, long before Jersey's legislation was in place.
Millions of pounds has been spent by government and businesses preparing the island for an e-gaming industry.
The States hope to be able to get a temporary licence while the UK reviews gambling legislation.
Being on the so-called white list would allow island-based companies to market gambling services to people in the UK.
The chairman of the UK Culture, Media and Sport Select Committee, John Whittingdale, has been in Jersey to discuss the issue with ministers.
Mr Whittingdale said: "It could be that a temporary solution could be found, that is one of the issues we were talking about.
"But it is likely there will be a new regime in due course and hopefully that is something Jersey could qualify for."
Jersey's assistant economic development minister Constable Len Norman said the island hoped to have a solution in place within months.
"It is only recently our law has been approved, we are now making an application to the Minister in the UK to appear on that white list."
2012 Olympics
He added: "I have already had a meeting with the Minister, Mr John Penrose in the United Kingdom and he is sympathetic to our position.
"There is a further meeting next month with the minister and we are hoping we will be allowed at least temporary access to that white list while the UK government reviews their gambling legislation."
The UK Gambling Act 2005 bans companies based outside the EU from marketing gambling services into the UK.
That includes advertising on television, radio, newspapers and in public spaces.
It means that while any company could set up and launch an e-gaming service in the island, they would not be able to promote those services to the UK.
Alderney, the Isle of Man, Gibraltar and other offshore jurisdictions are already on the list but not Jersey.
During his visit to the island Mr Whittingdale met the Bailiff, the Lieutenant Governor and ministers.
As well as e-gaming, they also discussed efforts to promote the island as a base for Olympic 2012 athletes to train.