Grainville School to pay tribute to teacher who died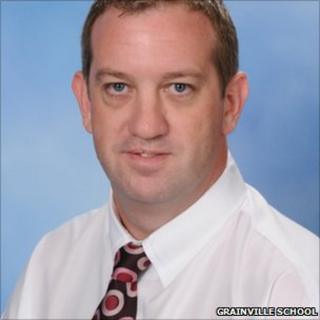 A school is paying tribute to a Jersey teacher who died after collapsing at work.
Pupils, friends and family of Grainville School teacher Jim Holland are gathering for a memorial service.
After the 40-year-old's death, thousands of tributes were posted online.
Headteacher John McGuinness said he was an inspirational teacher with a flair for making the most difficult tasks appear straightforward.
He said: "The tragic news of his untimely death came as a massive shock to the school community.
"As a self-professed 'god of maths' and 'polo king' Jim was respected by one and all.
"His charm, sense of humour and wicked dress sense reflected a man loved by all that knew him."
Mr Holland's parents will be in Jersey for the memorial service at the Royal Jersey Showground at 1500 BST on Friday.