Jersey firefighters tackle furze fire at Corbiere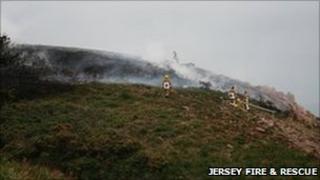 Land about half the size of a football pitch was damaged by a furze fire in Jersey on Sunday.
Jersey Fire and Rescue Service received a call at 0228 BST about the fire at La Rue de la Corbiere.
Eleven firefighters dealt with what they described as a "considerable-sized fire" with "large flames fuelled by strong winds".
The fire service said it dampened down an area of about 2,500 sq metres. The fire was under control by mid-morning.
No homes were evacuated.