Jersey Island Games team base is 'one of the best'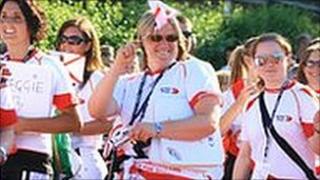 The location of Jersey's accommodation camp for this summer's Island Games has been described as "one of the best".
Steve Jacobs, Chairman of the Island Games Association of Jersey, said: "Out of all of the camp sites I visited we have one of the best ones in location."
Jersey is set to send more than 280 competitors to the event on the Isle of Wight at the end of June.
In Aland two years ago the accommodation for the team was spread out across the island.
Schools were used as make-shift dormitories, and in the past some host islands have housed competitors by sport rather than by island.
But Steve Jacobs, who visited the Isle of Wight earlier in the year, said he was pleased with the team base for the 2011 event, where Jersey's athletes will be based together in the same park.
He said: "It is very close to Shanklin and quite close to some of the competitions - sailing and wind surfing.
"The old train in the Isle of Wight runs from Shanklin through a couple of stops into Ryde which is where the opening ceremony is going to be, so it is very good.
"Shanklin is a very nice place as well, I was very impressed."
'Community event'
Of the 3,500 participants, the host island has the largest team with 316 athletes set to compete.
Guernsey has the second biggest team with 296 athletes, while Jersey is third with 282.
The opening ceremony will feature a parade through Ryde with 1,500 children involved.
David Ball, the chairman of the Isle of Wight organising committee, told BBC Radio Jersey: "We are trying to make the games - from the start - a community event.
"The children through a variety of costumes will tell the story of the Isle of Wight from the dinosaurs to the present day.
"The athletes will fit in with that parade down through the town and we are expecting a crowd of somewhere between 30,000 to 40,000."
The 2011 Games runs from 25 June to 1 July.
BBC Radio Jersey will have live coverage of the Island Games throughout the week of competition.