Free heart health tests offered in Jersey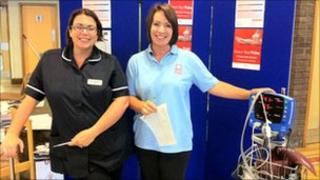 People in Jersey are being offered a free heart health test as part of World Heart Rhythm Week.
Two specialist cardiac nurses are offering the tests at the General Hospital.
They will also be offering islanders information and advice on how they can keep their hearts healthy.
Dr Andrew Mitchell, Jersey's Consultant Cardiologist, said many heart problems could be detected by a simple pulse check.
He said: "These conditions are incredibly common. For example the life-time risk of developing the heart rhythm condition atrial fibrillation from the age of 40 is one in four.
"All too often the first symptoms of a heart rhythm problem can be a serious collapse, stroke or even death.
"Next time you visit your GP, do ask for a pulse check, it only takes seconds and could save your life."
Islanders can get a pulse check in the foyer of the Parade entrance to the General Hospital between 0900 and 1400 BST on Tuesday.