London Olympic hope for Jersey tourism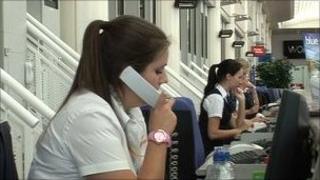 Tourism officials in Jersey have said they hope the London 2012 Olympics will lead to people staying in the island instead of the UK capital.
At an event on Wednesday officials will discuss how the Games could be used to bring more people to Jersey.
Tourism director David de Carteret said the island could be used as somewhere to stay and commute to the Games.
Mr de Carteret said scheduled flights into the UK were likely fill up as the Olympics got nearer.
Olympic torch
He said: "There is the opportunity of perhaps Jersey becoming a dormitory for people staying here whilst the Games are going on because it is anticipated London will be full.
"Obviously we've got some opportunities with the Olympic torch parade which is coming here on the 15 July next year."
Only scheduled flights will be operating to and from the island during the Games and airlines have already booked their slots.
Mr de Carteret said that could boost the number of people using Jersey during the Games.
He said: "We have heard the skies are full, there are no further flights going to be permitted from now on in.
"Therefore the schedule services we have could provide an opportunity for people to stay in Jersey and commute into London."