Jersey is 'far too dry' for bonfires says Fire Service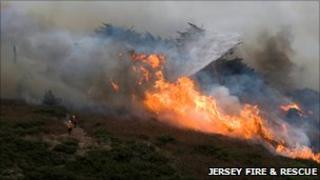 Islanders are being urged not to light bonfires as it is "far too dry".
Firefighters were called to two bonfires in Jersey on Tuesday, one of which was out of control.
Station Manager Richard Liron said: "It is hard to believe people are still happy to risk lighting a bonfire in these weather conditions.
"Normally we would give advice about precautions to take... it is past that point now. Please do not light them, it is far too dry."
Firefighters were called to the Crabbe area of St Mary at 1200 BST after a 999 call reporting smoke from the headland, but crews found it was a controlled bonfire.
'Tinder dry'
At 1600 BST firefighters were called to a bonfire at La Route du Francfief in St Brelade that was lit on Monday and left smouldering unattended overnight.
A gust of wind had caused the fire to spread to "tinder dry vegetation nearby".
A neighbour called 999 and the firefighters were able to deal with the fire quickly but still 180 sq metres of hedgerow was destroyed.
Mr Liron said: "It could have been a lot worse as the property was very remote, however a quick thinking member of the public waited in the road to direct the fire engines as they arrived.
"It is a terrifying feeling when you realise a fire is getting away from you, and worse than this is the feeling of being responsible for causing so much damage and putting others at risk."
Firefighters also had to revisit the Corbiere furze fire, that started early on Sunday morning, after fears it would re-ignite.
They used high pressure jets to put a further eight tonnes of water over the area.