Jersey plan to change Sunday trading law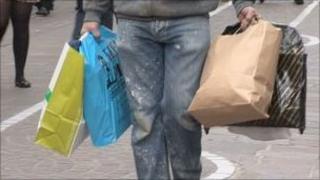 Jersey's council of ministers wants to simplify Sunday trading laws to make it easier for retailers to open.
Currently only certain government-approved goods can be sold on a Sunday, meaning beachwear can be purchased but not other clothing.
Constable Norman described the situation as "silly" and said it needed changing.
The assistant economic development minister said he did not think a change would lead to more shops opening.
He said while the law needed simplifying there was no appetite for extended Sunday trading from the States, consumers or retailers.
"Jewellery is an item that could be sold on a Sunday, so therefore under the present law you could see half of King Street and Queen Street [in St Helier] open on a Sunday," he said.
Peace and tranquillity
"But they don't because there is no appetite for it from the retailer or the consumer itself."
Parish constables would still have the final say on which stores could open on a Sunday.
They would have to asses the impact on people living nearby, the peace and tranquillity of the neighbourhood and the avoidance of nuisance to residents.
Under the plans, large shops over 500 sq m would only be allowed to open 10 Sundays per year.
The managing director of Jersey department store, Voisins, said there was no need for more shops to open on a Sunday.
David Elliot said he did not think many people wanted to go shopping on a Sunday.
He said: "We will look at what our customers would like us to do but based on our current knowledge we don't believe Sunday's are going to be a big part of that."