Jersey archer Lucy O'Sullivan faces exam 'challenge'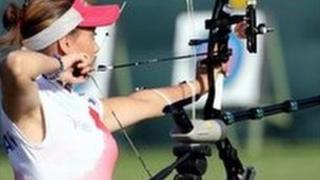 Jersey archer Lucy O'Sullivan said it has been "challenging" to fit in her Island Games training around university course work and exams.
The 2011 Games are in the Isle of Wight at the end of June.
The 20-year-old told BBC Radio Jersey: "It's been very difficult this year because I'm in the second year of university.
"I've found it quite challenging going to the gym every day, doing archery and trying to get my course work in."
O'Sullivan represented Jersey at the Commonwealth Games in Delhi in 2010, but the event in the Isle of Wight will be her first Island Games.
She is one of more than 280 athletes from Jersey travelling to compete.
'More Pressure'
She said: "I just hope to do my best, I'm sure there'll be some really good archers there.
"I'm so happy to be competing for Jersey again, last year it was just so much fun at the Commonwealth Games.
"I would like to get a medal this year but I don't want to put any pressure on myself because it always makes the competition more difficult if there's more pressure."
Despite her talent, O'Sullivan is unlikely to compete at the London Olympic Games because her particular discipline has been left out of the 2012 event.
She said: "Currently the bow that I shoot is not in the Olympics.
"I would absolutely love to go in 2012 but I would have to switch bows and with less than a year to go it would be too difficult to make the team."