Feeder booked to play Jersey Live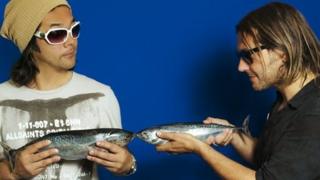 Jersey Live festival organisers have confirmed Welsh band Feeder for the main stage at the annual music event in September.
The band, formed in Newport in 1991, have produced three platinum albums, two gold and a silver-selling album.
They will join headliner Plan B, the Ting Tings and The Rapture on the main stage on Sunday.
Now in its eighth year, the festival is on Saturday 3 and Sunday 4 September.
'Afro-blues'
Organisers have also confirmed Amadou and Mariam from Bamko, Mali, West Africa, for the main stage.
They combine traditional elements of Malian music with rock, Syrian violins and Cuban trumpets. The sound has been described as "afro-blues".
Festival organiser Warren Holt said: "Their warm, summery sounds add yet another diverse dimension to the Jersey Live line-up."
York born singer-songwriter Benjamin Francis Leftwich has also been confirmed for the main stage on Saturday, and will play alongside headliners Madness, The Streets, Cage the Elephant and Ed Sheeran.
Jersey Live co-organiser Warren Le Sueur said: "Extremely pleased to have booked Feeder for this year's festival - they have a huge back catalogue and so many huge sing-along anthems that they're just the perfect festival band.
"It shows how far we've come as an event that we're bringing massive acts like this over to the island, and looking at the whole line up so far, it's as strong as ever. I can't wait for September to come."
BBC Jersey will be at the festival throughout the weekend.
BBC Radio Jersey will be broadcasting live on Saturday as well as playing interviews with the biggest names the following week.
There will be full highlights on BBC Channel Island News on Monday on BBC One.
The Jersey Live festival is taking place at the Royal Jersey Showground in Trinity.