Jersey's Lieutenant Governor Andrew Ridgway knighted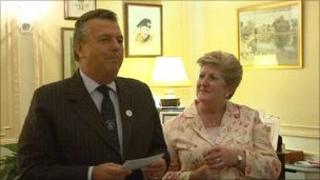 Jersey's Lieutenant Governor, Lieutenant-General Andrew Ridgway, has been knighted in the Queen's Birthday Honours list.
He said: "This role is very much a team game and [my wife] Valerie has played a huge part in it, as a result of my honour she becomes Lady Ridgway and I think that is only right and just."
They are coming to the end of their five years in Jersey.
Four other islanders were appointed MBE.
Among them is Dr Lee Durrell, of the Durrell Wildlife Conservation trust, who has been recognised for her conservation work.
She said: "The way I look at it, it is certainly not for myself.
"It is for the work that I do with Durrell, so really it is for Durrell and all the people that work here and all the animals we are trying to save."
Senator Paul Routier is appointed MBE for services to the community and to those with learning difficulties.
Senator Routier said: "If I have been able to support people with learning difficulties during that time and to achieve their potential in their lives then it has been all worthwhile.
"A lot has been achieved during that time and I am very proud of it."
Michael Wilkins, the Judicial Greffier, is appointed MBE for services to the judicial system in Jersey, in particular for his work and co-operation in international bankruptcy matters.
Nick Manning, the director of music for the Band of the Island of Jersey, is appointed MBE for services to the band and the community as a whole.
He has been in the band nearly 40 years and took over as conductor in 1994.
Mr Manning said: "It was something totally unexpected and I am overwhelmed and so honoured to receive it."