Jersey and UK to 'help countries' improve economies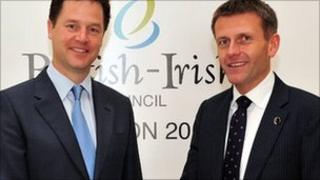 Jersey's treasury minister has said the island will work with the UK to help developing countries improve their economies.
Senator Philip Ozouf, who was at a government meeting in London on Monday, said the island was in a good position to help.
The British Irish Council, hosted by the UK Deputy Prime Minister Nick Clegg, held its 16th summit in London.
Senator Ozouf said the island could help other countries grow.
The British Irish council members, which include Jersey and Guernsey, looked at how they dealt with the challenges of the recession and how they could work together to promote business opportunities.
The Council also discussed how to make their economies more balanced, producing goods for export and having a better educated and trained workforce.
UK Prime Minister David Cameron spoke at the start of the summit on how the islands can improve their competitiveness.
Senator Ozouf said: "Jersey has made some difficult but necessary decisions and is extremely well placed to work with the UK and other members to ensure that globally we can secure growth, particularly from the developing economies of the world."