Jersey Connex bus passengers to get wi-fi access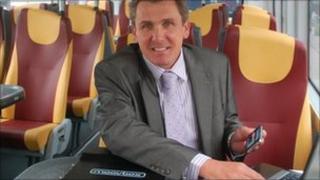 Jersey's bus operator Connex is adding wi-fi connections on its major routes.
The firm said that at present about 10% of islands took the bus regularly and hoped the move would encourage more to use the transport.
People using routes one and 15, to Gorey and to the airport, will be able to get online access.
Tim Ringsdore, managing director of Jersey Telecom, said the technology was similar to what was being used in the UK on trains.
He said: "I think in today's society everybody expects to be able to access the internet anywhere and anytime.
"This is an example of how we, from a technology point of view, can work with Transport and Technical Services, and Connex to encourage people to use the bus on a daily basis and still be able to stay in touch on the internet."
The service will launch first on the two new double-decker buses operating on the airport route.
Toni Miziolek, projects manager for Transport and Technical Services, the government department responsible for the bus service, said most journeys were under half an hour.
He said: "We hope it provides yet another reason to consider leaving your car at home, and taking the bus instead."
The service offered on the buses comes from Jersey Telecom's high-speed mobile internet service and is free for 30 minutes.
Mr Ringsdore said the internet speeds should be quick, at up to 14.4mb per second.
He said: "If some people are downloading high bandwidth data like streaming then the service will slow down.
"If people are doing normal e-mail services and browsing the web then the service should be really good."