Jersey chief minister faces censure vote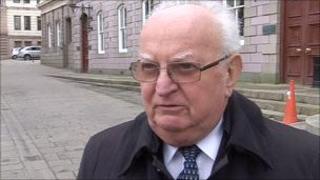 A Jersey deputy has said he hopes the Chief Minister will be censured over the way he handled alleged redundancy payments to senior civil servants.
Deputy Trevor Pitman said Senator Terry Le Sueur failed to show the expected quality of leadership over so-called golden handshake deals.
He said the Chief Minister's handling of the early departure of two senior civil servants was "appalling".
Senator Le Sueur declined to comment on the matter.
'Demonstrate their discontent'
Deputy Pitman said: "Golden handshakes - that amount to a lifetime's earnings for someone on the minimum wage - really has been the final straw.
"I now lodge this vote of censure in the hope that a majority of members will demonstrate their discontent with this."
He said that he felt the motion of censure should have instead been a vote of no confidence.
However, he said that with just four months of the current administration's term left, a successful vote would mean the removal of the Chief Minister and the executive.
He said this would "distract government from the problems facing the island's people at this difficult economic time".
States members will decide whether the Chief Minister failed to protect taxpayers' interests in July.