Jersey squad set sail for 2011 Island Games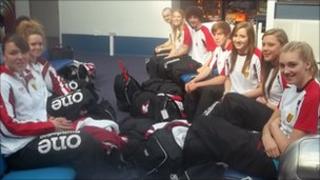 Top athletes from Jersey have set sail for the 2011 Island Games in the Isle of Wight.
A chartered ship with hundreds of sportsmen and women, coaches and family on board left Jersey on Friday.
Table-tennis player Victoria Barnes, 13, is Jersey's youngest competitor. She said: "I'm really excited and it's a big opportunity.
"I'm going for the experience and I'm hopefully going to pick up some medals along the way."
The island's oldest representative in the 282-strong team is David Chapman, 77, who will be competing in the shooting event.
Despite his age, this is his first Island Games. He told BBC Radio Jersey: "I'm very proud to represent the island and I hope I do it justice."
The opening ceremony in Ryde is on Saturday, followed by six days of competition in 16 disciplines.
Steve Jacobs, chairman of the Island Games Association of Jersey, said: "Our main hopes are getting as many golds as we can, but personal bests come into that as well.
"A lot of the competitors are young enough to go to future games as well, so giving them a taste of what it's like in international competition is obviously a boost to their careers."
Nearly 300 athletes from Guernsey, as well as 35 from Alderney and 10 from Sark will also compete against islands from around the world.