Jersey pupils develop rash after sand dune trip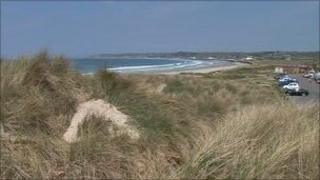 A school in Jersey has suspended trips to the sand dunes in St Ouen's Bay after pupils developed a rash after a visit.
The cause has not been confirmed but environment experts said it could be from contact with a moth which lives in the dunes.
All walkers are being advised to keep to the paths in the area.
Pupils from De La Salle College went on a school trip to the sand dunes on Wednesday.
Five boys developed an itchy rash and they have since been off school.
Flame guns
The head teacher Jason Lane said there would be no more visits to the dunes for the time being.
Contact with the hairs on the caterpillars of the brown tailed moth can cause itching and a rash.
The environment department has been unable to control the moths in 2011 because of the dry weather.
Normally officers would spend the late spring burning the nests with small flame guns, to keep them under control.
But the head of countryside management, John Pinel, said they had not been able to do that because of the risk of fire spreading.
He said the paths in the area had been cleared and people should stick to them if they were walking in the area.