Jersey boat owners given speed warning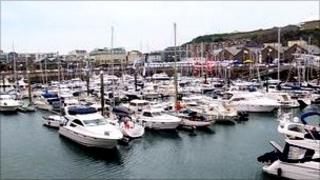 Jersey boat owners and jet skiers are being warned to watch their speed limits in the Harbour and off beaches by the island's coastguard.
Jersey's Coastguard received a number of complaints about boats ignoring the five knots limit in the Harbour.
They have also had reports of people speeding within 200m of the shore off busy beaches.
Staff using speed guns will be checking speeds over the next few weeks with those caught potentially facing a fine.
Captain Peter Moore, Deputy Harbour Master, said it was something that happened fairly regularly.
He said: "We do get reports and complaints from other boat owners and beach users that boats are speeding past them and causing an inconvenience with their wash.
"It's a mixture of locals, visiting yachtsmen and other boat users that are causing the problems."