Jersey blogger refused rights to film States sitting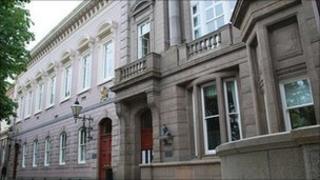 Jersey's politicians have decided not to allow bloggers to film inside the States Chamber for the first time.
The BBC and ITV made requests to film the Lieutenant Governor's last day in the States on Thursday, and were given permission.
But local bloggers Team Voice were denied their request, with a vote of 17 in favour to 22 against.
Filming is not normally allowed in the States chamber, but allowances are made for special occasions.
Accredited media
The committee which regulates procedures in the States is still considering how bloggers should be regulated in comparison with the accredited media.
Before the vote Constable Peter Hanning, a member of the privileges and procedures committee warned States members against creating a precedent.
He said: "We have a policy, I think until this house has changed this policy it would be very wrong to make ad-hoc decisions."
The Constable of St Saviour said the subject of accredited media was currently with the privileges and procedures committee for study.
Deputy Montfort Tadier said members should allow bloggers to film as it would give them the chance to get new images of Jersey politicians.
Deputy Trevor Pitman said bloggers should have the same rights as the mainstream media.
He said: "I think it is absolutely appalling if then a member of the public, just because he is not classed as accredited cannot film.
"I think we really have to show a bit of integrity and let anyone film it, what's the problem it is the people's governor."