Jersey bands on playing the Glastonbury festival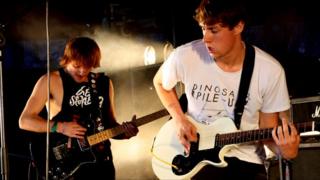 Every year dozens of Jersey music fans make their way to Somerset for the Glastonbury festival.
In 2011 the fans were joined by two Jersey bands who were performing.
In March Brave Yesterday announced they would be opening the John Peel stage on the Saturday.
The band were spotted playing a main stage set at Jersey Live in 2009 by Glastonbury booker and Jersey Live regular Martin Elbourne.
It took a couple of years to come together but eventually the rock band were invited to play.
The band's frontman, Chris Nutter said it was an amazing opportunity to get their music in the right hands.
He said: "Nothing really comes from one gig normally, but we are going to use it as leverage to get new gigs, higher profile gigs with higher profile bands.
"Just use it as build-up really, build it up from there."
More good news was to follow in June when BBC Radio 1 confirmed that Jersey's Pirate Video Company would be playing the prestigious BBC Introducing stage.
Max Cleworth from the math punk band said it was an incredible experience.
He said: "The whole festival was just unreal, obviously playing was surreal and really fun, we were all really scared just before it but once we got into it it was OK."
The band's set was broadcast live on the BBC Red Button, screened just after a repeat of U2's set.
Then two days after the event on 27 September, buzzcocks-esque punk trio Top Buzzer posted on Facebook that the "Glastonbury gig was amazing".
But they did not play the festival, in fact they did not even have a ticket to attend.
The band played a guerrilla gig in Glastonbury town centre in front of Mick Jagger's brother.
Craig Welsh plays drums for Top Buzzer and said they just wanted to promote the album.
He said: "Our album has just come out so we are on tour at the moment around the UK.
"On Sunday we had the day off so we thought we're all together, we have this album to promote, we should set up somewhere and just play.
"It was the hottest day of the year, we thought there is a shindig going down in Glastonbury, why don't we play there."
The Pirate Video Company's set is still available to watch on their page on the BBC Glastonbury site.