Jersey Haut de la Garenne abuse inquiry cost 'irrelevant'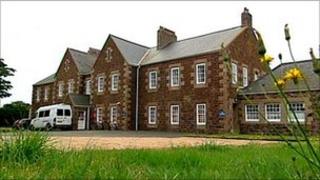 The man who lead police investigations into historic child abuse in Jersey said he was told by a senior civil servant the cost was irrelevant.
Lenny Harper spoke by phone on Monday to a panel of politicians reviewing a report criticising the cost of the investigation's financial management.
Accountants BDO Alto said £1m of the £7.5m investigation budget was spent on hotels, meals and entertainment.
They did not interview Mr Harper as part of their review.
'Mindful of costs'
In a statement to the scrutiny panel, Mr Harper said he was rebuked for questioning the costs associated with the investigation.
He said: "They have ignored the fact that when I did speak publicly about the need to be mindful of the costs of the inquiry, I received a stinging rebuke from Bill Ogley, on behalf of Frank Walker, in which he said costs are irrelevant.
"I have a copy of that e-mail and if BDO had bothered to try to contact me I would have let them have it.
"Far from being reckless with finance as BDO have reported, I was rebuked by Bill Ogley for even considering the need to be careful with money."
Deputy Trevor Pitman, chairman of the home affairs scrutiny panel reviewing the BDO Alto report, said Mr Harper should have a chance to respond to criticisms.
Deputy Pitman said he hoped the review could finally end the controversy surrounding the investigation.
A spokesperson for the Chief Minister said there would be no comment on Mr Harper's evidence.
The spokesperson said: "We do not wish to prejudice the outcome of this ongoing review by issuing any comment on Mr Harper's submissions to the Education and Home Affairs Scrutiny Sub-Panel.
"If the Chief Minister is called upon to submit his own evidence during the course of this review, he will do so."
Police in Jersey began a covert investigation into alleged abuse at the former children's home Haut de la Garenne in 2006.
The scrutiny review continues.