Whale research ship to visit Jersey for conference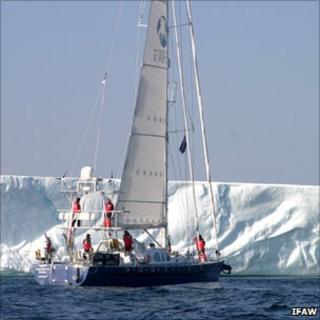 A research ship owned by an animal welfare charity will visit Jersey ahead of an international whaling conference.
The International Fund for Animal Welfare (IFAW) is visiting the island during the talks and wants to protect the ban on commercial whaling.
Delegates are gathering in Jersey for a meeting of the International Whaling Commission (IWC) from 11 July.
The IWC is the body representing whaling industry nations.
Members of the IFAW are setting sail in their research ship "Song of the Whale", which they say uses non-harmful methods to study whales.
'Conservation body'
The ship will leave from St Katharine Docks in London on Thursday.
The campaign is being supported by former Bergerac actor, John Nettles, who said it was vital the IWC meeting adopted the "strongest possible protection for whales across the world".
Robbie Marsland from the IFAW said its research ship would show delegates how to study the creatures without harming them.
He said: "Delegates have an opportunity to make positive and lasting change for whales when they meet in Jersey.
"IFAW urges representatives of the 89 member governments of the IWC to do all they can to ensure UK proposals for transparency and efficiency are adopted and that the IWC is turned into a genuine conservation body for whales."
The anti-whaling organisation the Sea Shepherd Conservation Society will also be sending one of its boats to Jersey for the conference.
About 20 representatives of the organisation, will be in Jersey with their ship the Bridget Bardot.
The trimaran is used for high speed interceptions and has recently been targeting tuna fishermen in the Mediterranean.
The International Whaling Commission conference starts on Monday at the Hotel de France in St Saviour.