Artists paint virtual Jersey using Google Street View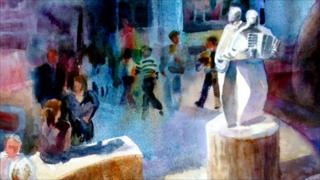 Jersey has been picked by a group of international artists as the subject for their latest "virtual paintout".
The painting project is run by American artist, Bill Guffey, who invites artists to use Google Street View as a source for inspiration.
Mr Guffey sets a different location each month and has been running the project for the past two-and-a-half years.
He said he had never been to Jersey but from looking on Google Street View he would love to visit the island and paint in the open air.
"Looking at the island on Street View one can see how beautiful the area is," he said.
"I'm always looking for interesting places to use for the Virtual Paintout project, one other artists will also find interesting.
"Jersey seems to have it all, farm scenes, seaside, urban, etc."
He originally had the idea to use Street View as a reference for artwork while virtually touring New York City using the programme and spotting a cafe.
"I came upon a cafe in New York City that I thought interesting. So I captured a screenshot on my computer and used that as a reference for a painting.
"After a few Street View paintings I did a series of one from each US state. I contacted Google to ask about copyright and got a blanket permission that all artists can use Street View as a reference without fear of copyright infringement," he said.
While the project started with Mr Guffey painting scenes he had found himself, he soon opened it up to other artists.
He said: "I thought other artists would enjoy the challenge of trying to find a composition in an area that I choose.
"Similar to an organized paintout for plein air [open air] artists, except using Street View to travel the area virtually."
Mr Guffey said he had received more than 100 paintings of some locations and that people in Jersey could expect to see about 70 pieces published.
Jersey will be the virtual paintout location throughout July.