Jersey senator change was 'scandalous'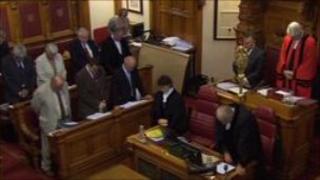 The decision to continue with a plan to reduce the number of senators in Jersey has been described as "scandalous" by a Guernsey politician.
A number of States Members tried and failed to stop the number being cut by four.
Tony Webber was the last democratically elected Island-wide politician in the Bailiwick of Guernsey and Alderney and said the change was wrong.
He said a similar situation happened in Guernsey without the people's approval.
Mr Webber said that the change was as though politicians were voting fellow politicians out of office who had a wider democratic mandate than them.
He said that since Guernsey changed its system all opinion polls had shown that the public wanted to have island-wide elected politicians back.
Mr Webber believed there was still time to keep the number of senators as they were and to ask the Privy Council to stop the reduction from happening.
The number of senators will be reduced between 2011 and 2017 going down from 12 to 10 from the elections in October 2011 and then from 10 to eight by 2017.