Former Jersey Bailiff will stand for senator role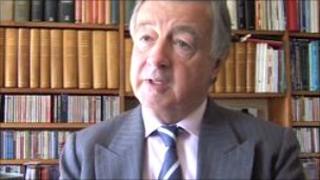 Former Jersey Bailiff Sir Philip Bailhache will stand for senator in the next Jersey election.
As Bailiff Sir Philip was the president of the States of Jersey and the island's chief judge for 14 years between 1995 and 2009.
After retiring as Bailiff he continued as a judge until 2011 when he resigned from judicial office to stand for the States of Jersey.
He said he would be standing on a platform of constitutional reform.
Sir Philip said: "I am taking this step because it seems to me the States have lost their way and reform is urgently needed to restore respect in the political system.
"I will be standing on a platform of constitutional reform which will see a reduction in the number of States members to 42."
Jersey goes to the polls on 19 October in an election in which for the first time all Deputies, Constables and half of Senators will be elected on the same day.
The number of senatorial seats available in the election will be reduced from the current six to four from October.