New stamps show Jersey shipwrecks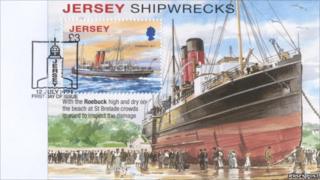 A new set of stamps issued on Tuesday 12 July show a number of shipwrecks from around Jersey.
Jersey Post philatelic researcher Melanie Gouzinis said: "Ships are always popular with stamp collectors and lend themselves well to being illustrated."
The six stamps come with a booklet including illustrations and details of what happened to the ships.
The stories are taken from the book Shipwrecks of the Channel Islands.
The illustrations are by stamp artist Tony Theobald.
Mrs Gouzinis said: "Tony's artwork always displays an incredible attention to detail, he has painted several maritime stamp issues for Jersey Post and is also well known for his aviation and railway stamps."
She said: "The Maritime Museum is home to amazing displays from the wrecks of many ships and their accompanying stories are fascinating.
"John [Ovenden] was only too pleased to assist us with our project. He has an impressive collection of photographs and his passion for, and in depth knowledge of, the subject was extremely useful."
The ships featured on the stamps are the TSS Princess Ena from 1935, the SS Caledonia from 1881, the TSS Ibex from 1897, the SS Schokland from 1943, the USS PT509 from 1944, the PS Superb from 1850, and a £3 stamp featuring the TSS Roebuck from 1911.