Ferry's animal care is questioned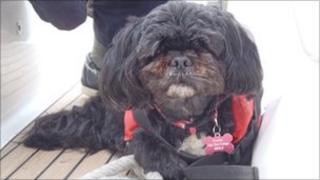 Condor Ferries has promised to look into the way it cares for animals brought on board by foot passengers, following a complaint.
Dr Geoff Cutts and his wife complained after travelling with their dog Domino from Poole to Jersey last week.
The couple said proper provision was not made for Domino, her cage was not secure and she got wet in the rain.
Jersey director of Condor Steve Bailey assured customers that all animals brought onboard were well cared for.
"I can assure you every animal that travels with us is looked after and we will continue to do that," he said.
Condor's policy is that pets are carried in the passengers' cars and are only accepted for travel with foot passengers who provide their own RSPCA approved carrier. The carrier is then left in a designated area on the car deck for the duration of the journey.
Domino was put in a container on the floor of the car deck in a gap between a wall and a bicycle storage area, with a mat underneath to stop the container getting hot from the ferry's engines.
But Dr Cutts said: "Their treatment borders on the cruel. We believe their licence to carry animals should be rescinded until they make proper provisions for them.
"There was no way to secure the container and the area was not secure from theft so we improvised and secured her container using her dog lead."
The couple called for the ferry company's licence to carry animals to be revoked. Dr Cutts added: "Condor are not equipped to carry animals that are not within cars."
Dr Cutts was also unhappy that a member of staff moved Domino during the crossing and she got wet in the rain.
Mr Bailey added: "Obviously we do not want to see any animal anywhere under any kind of distress or harm, I am a pet owner myself.
"This should not have happened and we will take steps to ensure this does not happen again."