Silverback gorilla leaves Durrell Jersey for France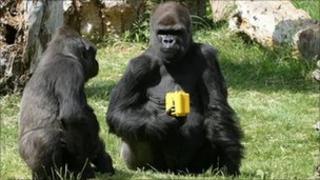 Ya Kwanza, a Durrell Wildlife park male silverback gorilla, is leaving Jersey after not breeding for eight years.
He will be moving to his new home with a bachelor group of gorillas at La Vallée des Singes just south of Poitiers, France.
He is travelling on the Condor Rapide to St Malo on Wednesday morning.
Ya Kwanza has been in Jersey for 18 years and is being replaced by Badongo, a male gorilla born at La Vallée des Singes.
The Gorilla European Endangered Species Programme suggested Ya Kwanza be moved as he had not bred for eight years.
Amy Hall, animal registrar at Durrell, said: "We are used to transporting animals around the world, although travelling with a 550lb great ape is quite unusual.
"We have made careful preparations for the journey, so [Ya Kwanza] should be a relaxed passenger during the crossing.
"Nonetheless, I hope the winds calm down a bit before Wednesday as gorillas are certainly not used to travelling by sea."
'Say goodbye'
Steve Bailey, Jersey director of Condor Ferries, said: "It will be sad to say goodbye to such a well-known Jersey character and we will do everything we can to ensure that his journey across to France is as smooth and comfortable as possible.
"It is not every day that gorillas are among our passengers but we are used to carrying animals and I am sure Ya Kwanza will have a very pleasant journey.
"His keepers will be with him all the way, making sure that he is comfortable and as stress-free as possible."
Badongo will travel to Jersey on board Condor Ferries on 26 July.