University fees for Jersey students cheaper in 2011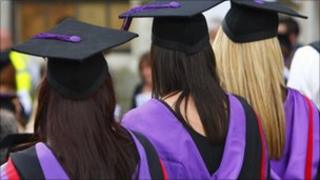 The cost of going to university if you live in Jersey will be about £660 cheaper in September.
Tuition fees will be up to 7% cheaper for Jersey students at UK universities and maintenance grants will increase by 2% at the same time.
It means a Jersey student who receives the full grant will be eligible for a payment of £5,200 for the year.
The States has not yet negotiated a deal for September 2012, when UK universities can charge up to £9,000.
David Greenwood, the assistant director of education, said: "This year the British Government cut the funding to universities and we argued that the same cut should apply to Jersey students, and to those in Guernsey and the Isle of Man too, so for a year at least we have a reduction in fees.
"It is a complex situation but in the meantime we have secured the best possible outcome for Jersey students."
The three Crown dependencies negotiate their student fees collectively using a financial formula to calculate the fees based on what the UK government contributes to universities.
But as the UK is cutting the government contribution this year, it means cheaper fees for Jersey, Guernsey and Isle of Man students for the next academic year.