St Helier wins award at RHS Tatton Park flower show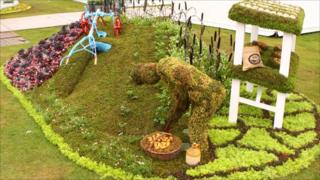 The Parish of St Helier has won a gold award at the Royal Horticultural Society's Tatton Park Flower Show in Cheshire.
The Jersey Royal theme by the parish won the award in the RHS National Flower bed competition.
It was the second year in a row that the parish has won an award at the show.
Team member Dale Hector said he had a lot of ideas for future shows including a Battle of Flowers theme.
"The one I would like to do and it would connect well for August and the Battle of Flowers, we would do a float and I think we could do something different to everybody here.
"And it would give a history as well because Jersey has got 800 years of history and we have got loads of ideas.
"We needed the gold to keep us going because you do feel a bit dejected in the rain, not that silver is a bad medal but gold gives you the impetus to keep going."