Jersey Post sees profits decline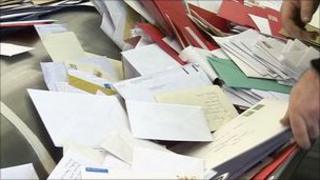 Fewer people sending letters in Jersey have been blamed for a fall in profits at Jersey Post last year.
The accounts have been published alongside other utility companies owned by the States.
Jersey Post's operating profit fell to £0.6m in 2010 - down from £1.2m in 2009 and £4.3m in 2008.
The company said the volume of mail fell by nearly four million from 94.1 million in 2009 to 90.6 million last year.
But the Jersey Telecom Group had a turnover of nearly £100million, the highest in its history.
Jersey Telecom said it was due to continued development of the company, reducing its operating costs alongside increased investment in broadband speeds in the island.
Jersey Water also reported profits of just over £4million, just ahead of the previous year.
Treasury and Resources Minister, Senator Philip Ozouf, said: "These companies, along with Jersey Electricity, provide key utility services to islanders and businesses.
"The public of the island have a substantial interest in these companies, through the significant public share holding held by the States, which stands at more than a quarter of a billion pounds."