Warning made over radon poisoning in Jersey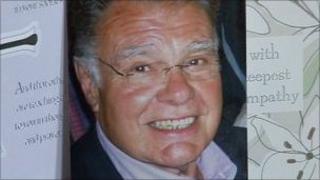 A Jersey man who fears his father's fatal lung cancer was caused by radon emitted by his house is calling for greater awareness about the issue.
Timothy Hanson believes his father Vernon could have inhaled the odourless gas through his house's granite walls.
Radon, if inhaled, emits particles that can damage the lungs.
Val Cameron from Jersey's health department said the risk from radon was relatively low but admitted problems could occur when the gas builds up.
'Good ventilation'
She said: "Naturally, if it comes up in the soil on a field or in a garden, it just dissipates into the atmosphere and is not a risk at all.
"But if it comes up into the sub-floor of a house where you have got a wooden suspended floor and a space under the house, the gas can build up in that space.
"What we have been trying to advise people is that there should always be good ventilation of that sub-floor space."
Mr Hanson said: "There is a lot of radon in Jersey and in fact on the States own website it refers to tests that started in the 90s, and a significant proportion of the dwellings then tested were above the safe threshold.
"One of the simple things that can be done is to install a radon detector in your house, which you have to keep there for three months and it costs about £40 or so."