A new benefit will pay for long-term care in Jersey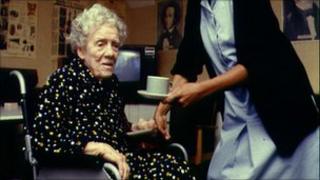 A new fund in Jersey will put money aside now rather than have older people face huge care bills.
Jersey's Social Security Minister, Deputy Ian Gorst, has brought in a new benefit to help pay for long-term care.
The law, agreed unanimously in the States, will see employees, the self-employed and pensioners make compulsory contributions of about 1.5% of their incomes.
And the States will add up to £30m a year to the fund.
The minister said it should mean people will not need to sell their homes to afford their care bills.
He said many people often did not know just how much long-term care cost and some older people paid up to £1,000 a week to live in a care home.
Deputy Gorst said the benefit was another step towards coping with a society that was living longer.
He said: "It takes away the worry that members of our community have right now about what is going to happen to them if they need care in later life and how they are going to meet those costs."
Daphne Minihane from Age Concern Jersey said it was long overdue and would help a lot of people in need.
She said: "This is good news, we have been trying to get this now for 10 years.
"A lot of these older people have saved all their lives and are now finding they have to pay for everything and when their money goes down to a certain level they then have to sell their home.
"This is wrong and I am delighted the States have seen sense at last and are doing something about it."