Fishing boat in collision with ferry raised from seabed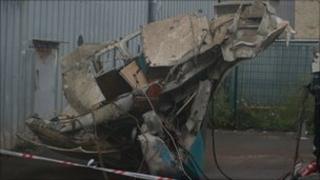 A French fishing boat which sank after a collision with a Condor ferry has been raised from the seabed.
Fisherman Philippe Lesaulnier, 42, died in the crash in thick fog near the Minquiers in March.
The remains of his boat, Les Marquises, has been towed to St Malo and investigators will look into the cause of the collision.
The French authorities said a decision would be made in September as to whether any charges will be brought.
It took 13 hours to salvage Les Marquises and tow it to St Malo and a further two hours to winch the remains of the boat ashore.
As it was lifted the bow section became separated from the rest of the damaged hull.
A spokesman for the salvage company said: "It was a very delicate operation as the two parts of the boat were only just holding together."