Jersey bus service 'costing the States too much'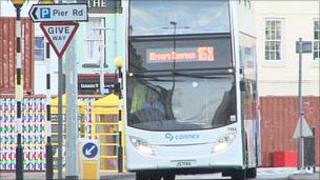 The States is spending too much on providing a bus service, according to a report by the Comptroller and Auditor General.
The report said lessons needed to be learnt from outsourcing services as it was likely more would be provided by private companies in the future.
Transport and Technical Services (TTS) is inviting tenders for a new bus contract to start in January 2013.
TTS Minister Constable Mike Jackson said there had been plenty of interest.
The Comptroller and Auditor General, Chris Swinson, said the objectives of the original bus strategy had been met more or less but it had cost the States a substantial amount of money.
He said incentive and penalty schemes needed to be a necessary part of any arrangement which was not the case with the buses.
Constable Jackson said he had learnt from the experience of the current contract with Connex and wanted to offer cash bonuses for great service.
He said: "I think we want to move it from a contract based on penalties to a contract based on incentives."
He said the number of bus passengers had increased and they seemed to be very happy with the service.
But he added lessons were being learnt and improvements were being made.