Gorilla replacing Ya Kwanza to arrive at Durrell Jersey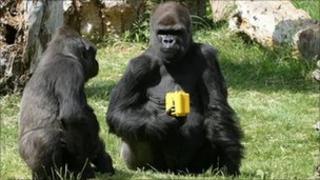 A male gorilla born in France who will replace the male silverback Ya Kwanza is arriving in Jersey on Tuesday evening.
Badonga will be on the ferry and will then be put in quarantine for a while.
Ya Kwanza, who had been at Durrell for 18 years, left the island last week because he had not bred for eight years.
He was sent to join a bachelor group of gorillas at La Vallee des Singes just south of Poitiers, France.
The Gorilla European Endangered Species Programme suggested Ya Kwanza be moved because he was not breeding with the females.
Ya Kwanza travelled on the Condor Rapide to St Malo last Wednesday morning.