Memories wanted of St Helier bombing for a new book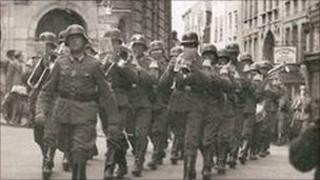 The Parish of St Helier wants to hear stories of the bombing which marked the start of the German occupation.
The plea comes as a book on the subject is being compiled to preserve the memories for future generations.
The air raid on St Helier harbour and La Rocque heralded the start of the German military occupation of the island, which lasted five years.
Nine people lost their lives in the bombing on 28 June 1940 and many others were injured.
When Germany carried out the air raid, they were unaware that Jersey had been left undefended.
Daren O'Toole, of the Parish of St Helier, said there was presently no book which covered the bombing, so residents had felt it was time to create a permanent record for future generations.
He said: "It started at the 70th anniversary of the bombings when the Constable of St Helier hosted a Vin d'Honneur at the harbour, and this year for the 71st we did it at the Town Hall.
"A few of us noticed that there were some people that were not there from the year before and of course they had sadly passed away and their memories of that day are now lost forever.
"There are a lot of fantastic characters out there with some fantastic stories and once they die that is it."