UK arrivals to Jersey not checked by immigration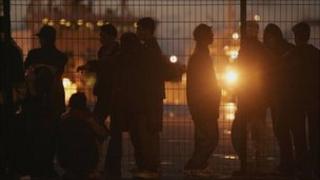 There is no way to tell how many illegal immigrants are entering Jersey from the UK, the Home Affairs Minister has said.
Senator Ian Le Marquand said Jersey's borders are part of the British Common Travel Area and there are no checks on people arriving from the UK.
He said it was up to Britain's Immigration Service to do its job when people first arrive in the country.
He said illegal immigrants from the UK were usually discovered at work.
"There was an instance some years ago where there was a number of people, I think they were Indian nationals, who we found working on the [airport] runway, and recently we have found people working in restaurants who had come in from the UK," he said.
And the minister said if people have already illegally entered the UK there were no checks to stop them then coming to Jersey.
Illegal entry
But he said the island was able to control who comes in from elsewhere and said he thought about six illegal immigrants a year try to enter Jersey via France.
On Tuesday night a man claiming to be from South Africa tried to enter Jersey illegally by kayaking from France.
But he had to be rescued off the Ecrehous reef, to the north east of the island, where he had got stranded.
The man, who had no identification on him, was detained and during an interview he claimed asylum.
But he was escorted back to France as that was the first safe country he arrived in and the place he should have claimed asylum.