Jersey's new Durrell gorilla Badongo 'settling in well'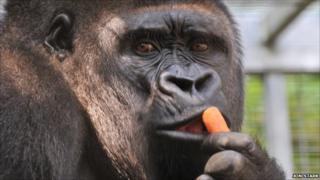 A new silverback gorilla has arrived safely in Jersey from France.
Badongo arrived at Durrell wildlife park on Tuesday evening from La Vallee des Singes, just south of Poitiers in France, where he was born.
He will be in quarantine for six months but visitors to the park will be able to see him in the indoor gorilla exhibit.
Durrell says all being well Badongo will be mixed with the female gorillas in about two weeks.
A member of staff at Durrell said: "He is settling in really well, is calm and content and we are in the midst of the first stage of his introduction."
He replaces Ya Kwanza, who had been at Durrell for 18 years and left the island last week because he had not bred for eight years.
Ya Kwanza was sent to join a bachelor group of gorillas at La Vallee des Singes.
The Durrell Wildlife Conservation Trust has been famous for its gorillas since 1986 when Jambo stood guard over a young boy who had fallen into his enclosure.