Man suffers burns to 12% of body in fire in Jersey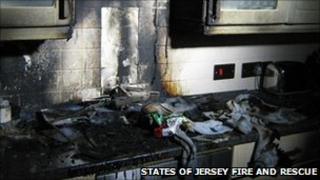 A man has burns over 12% of his body after a fire in Jersey.
States of Jersey Fire and Rescue said the fire in the kitchen of a top-floor flat in St Saviour's Road was caused by a conventional chip pan.
Six people and a small child were evacuated from the property in the early hours of Friday morning.
The 29-year-old man has burns on his arms, legs and hands and is in a stable condition in the intensive care unit at Jersey's General Hospital.
The fire service said with no working fire alarm in the property, it could have led to multiple deaths had someone not been awake to raise the alarm.
Watch manager Richard Ryan said the chip pan fire had resulted in a family becoming homeless and a man in hospital.
He said it was important to have a working smoke alarm and is urging islanders to "change from using a conventional chip pan to a thermostatically-controlled appliance or even oven chips."