Land near museum is given to National Trust for Jersey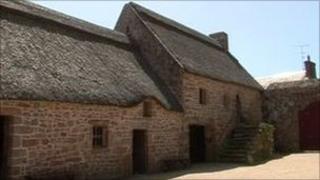 A piece of land near Hamptonne Country Life Museum has been given to the National Trust for Jersey.
It covers more than 35 vergees, which is about the size of 20 rugby pitches, and will be used for a woodland trail from the museum, and to extended grazing areas.
The trust hopes to also use it for bug safaris in the meadows.
It was donated by islander Veronica Simmons in memory of her father, the late Richard Sinkins.
Ms Simmons said: "We are pleased that its acquisition will both support the aims of the National Trust for Jersey and maintain the land for the enjoyment of the local community."
'Particularly fitting'
Celia Jeune, President of The National Trust for Jersey, said it was a dream come true.
She said: "Back in 1936 Carlyle Le Gallais crucially recognised the need to protect Jersey's unique valleys by gifting the Trust its first piece of land in Vallée des Vaux.
"It is therefore particularly fitting to see this tradition continuing through the immense generosity of Gladys Sinkins and her daughter Veronica.
"Such gifts are the life blood of the National Trust and it is heartening that people still recognise the need to support and assist our ongoing work."