Homes planned for Sion Methodist Church site in Jersey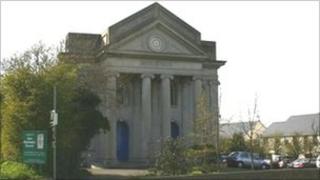 Nine homes could be built on the site of the closed Sion Methodist Church in Jersey.
The building has been shut for more than a year because the congregation could not afford the running costs.
The plan is for four of the homes to be created in the main church building, with others around the site in St John.
If approved, the proposal would maintain the look of the church but an existing house would be knocked down and replaced by two new homes.
The church is a listed building meaning Jersey's planning minister has control over whether the work goes ahead.
The Reverend Graeme Halls, superintendent of the island's Methodist Circuit, told BBC Radio Jersey: "A lot of hard work has gone on in this last year to try and do something that is appropriate and suitable for the area and building.
"The plans are to keep the general appearance of the site, which is important to us, but also to try to create housing that is affordable."
After the final service in June 2010 the congregation moved to the nearby United Reformed Church.
The development proposals are expected to be put to planners soon.
"In this particular case in Sion we'll be selling the site," said Mr Halls.
"Of course we're sorry for the people who have worshipped there, who love the place and can't worship there any more.
"We feel very strongly for these people, it's a very difficult time."