Jersey teachers do parachute jump for ill child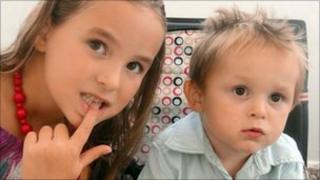 Teachers and pupils have been getting together at a Jersey school to raise money for a future pupil who has a rare bone marrow condition.
Four teachers have taken part in a parachute jump to raise money for Joe Redmond, a two-year-old boy with Diamond Blackfan Anaemia.
The condition means that Joe's body is not able to produce red blood cells so he has to have a blood transfusion every month.
He also has to have chelation therapy where a drug is infused into his stomach over a 12-hour period via a needle and pump to reduce iron build up in his body.
His dad, Peter said: "On a day to day basis it doesn't affect us that much as he has a routine.
"In terms of medication at night we plug him to a pump, we plug him in for 12 hours, he wakes up and we take it out, that's it.
"He is not ill on a regular basis, he can't produce red blood cells, he is not prone to illness so apart from that he is normal."
But the transfusions and injections may be coming to an end as Joe's sister, Holly, is a bone marrow match with her brother, this means Joe can have a potentially life-saving bone marrow transplant.
Mr Redmond said: "For Holly it is a relatively simple operation where she will be in hospital for a couple of days, she will milk it for everything she can, she will have new bikes and dresses.
"She is only six or seven years old so she doesn't really know what she is doing, that will come later when she realises she has saved his life."
The cure does not end with the transfusion though as Joe will need to remain in England for 12 months where he will have chemotherapy and be kept in isolation to allow his immune system to recover.
Mandy le Brocq is the head teacher at St Christopher's school where Holly is a pupil.
She said they were helping to raise money as the family expect it will cost them about £50,000 to cover the costs of transport and living expenses during the 12 months Joe will spend in recovery.
She said: "He is a lovely, lively little lad and we hope we can help them to help him get better."
Joe is the only person with Diamond Blackfan Anaemia in the Channel Islands and one of just 600-700 around the world, so for Mr Redmond the fundraising is as much about raising awareness as money.
"We have approximately £25,000 in the bank, we have lots of pledges and well wishers. For us it isn't just about the money, it is about the awareness as well," he said.
Sue Pace, one of the jumping teachers described the experience as "absolutely fantastic" and that she could do it again.
She said: "It's a fantastic cause, this one is for little Joe."